The United Way of Greater Kingsport Extra Mile Club recognizes workplace donors who give 50% over their Caring Gift Guide level (click here to see your level) and individual donors who make contributions of $500 or more per year. These donors are thanked with a limited edition art print. If you would like to make a gift to United Way of Greater Kingsport, please click here or call our offices at 423-378-3409. 
The Extra Mile Club is starting 2022 with a new series, En Plein Air, a French expression meaning "in the open air". The series is being done by a local artist, Carol Dixon. The painting for 2022 is "Allandale Barn".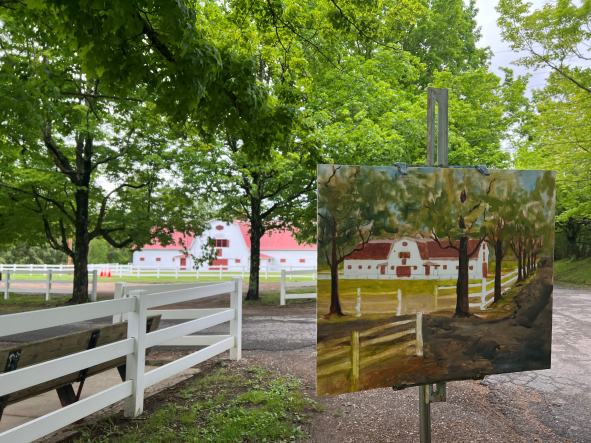 About the Artist
Carol began her art journey in the Midwest – Indiana and Chicago, and then moved to the Washington, DC area where she studied art at the Torpedo Factory in Alexandria, Virginia for several years.  She works in watercolor, acrylic and oil.  She has done series of Eastern shore beaches and Hawaiian beaches.  Now living in Southwest Virginia, Carol is experiencing the mesmerizing lure of the region – the mountains, the lakes and rivers, and wonderful forests. Now a committed plein air painter, she travels around the region to capture the landscape, She participates in plein air painting competitions. Most recently received the "Best Water Scene" at the Blowing Rock Plein Air Competition 2021.
Artist Statement:
As I paint, I am both lost in the moment and "found" in the sense that I am uncovering some of the mysteries of translating color, shapes and textures.  What I paint is not only what I see, but also how I feel. Painting en plein air can be a wild sensory experience – including input from dogs, horses, bees and bugs.   With the light changing every minute - changing the interpretation of the painting, the experience can require quick thinking and a quick response on the canvas!